Event Details
USC Lusk Center Seminar featuring Edward Coulson, UC Irvine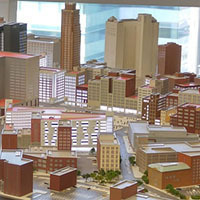 USC Lusk Center for Real Estate Research Seminar Series
Presenter:
Edward Coulson
University of California, Irvine
Abstract: We present a theoretical model of municipal rents to develop testable hypotheses about the potential capitalization of commuting costs from a gasoline tax on home values across a city. Using 908,205 home sales in Clark County, Nevada from years 1980-2010, we find that: all else equal, homes with longer commutes sell at lower prices; homes with short commutes exhibit price changes of the same sign as a change in gasoline prices, and distant homes exhibit price changes opposite in sign to that of the gas price change; and relative home values respond asymmetrically to increases and decreases in gasoline prices. A ten percent increase in gasoline prices is associated with changes in location-specific average home values that span a range of about $12,700. This suggests that an increase in gasoline taxes or a carbon tax could affect household wealth and housing markets across different locations in a metropolitan area.
This is event is open to USC Price faculty, staff, and Ph.D. students.
For more information, or to RSVP, please email: tibayan@price.usc.edu
To meet with the speaker, and to register for lunch or dinner, please use this link.