Event Details
Minority Representation in Local Government and Distributional Outcomes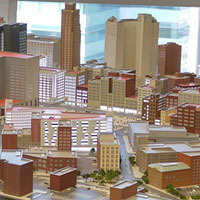 USC Lusk Center for Real Estate Research Seminar
Presenter:
Randall Walsh
University of Pittsburgh and NBER
Abstract:
To what extent does minority representation in local governments affect distributional outcomes? We take advantage of a unique dataset identifying the ethnicity of California city council members and candidates to assess how the election of a nonwhite (rather than white) candidate, and any policies associated with increased minority representation, is capitalized into housing prices. We especially focus on comparing changes in housing values in majority white versus majority nonwhite neighborhoods within cities to assess how minority representation impacts distributional outcomes. Using a regression discontinuity approach, we find that the ethnicity of the candidate has no impact on average housing values in the city. However, the election of a white candidate leads to higher housing values in majority white neighborhoods and lower housing values in majority nonwhite neighborhoods. The election of a nonwhite candidate, on the other hand, has limited effect on housing values in either type of neighborhood.
This is event is open to USC Price faculty, staff, and Ph.D. students.
For more information, or to RSVP, please email: tibayan@price.usc.edu