Event Details
DUPSA Seminar: "Rethinking the 2nd wave of Urbanization in Egypt"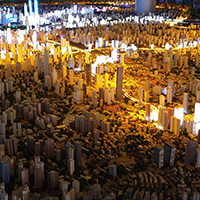 Presented by Tarik A. Fathy, who received a B.Sc in Architectural Engineering from Cairo University in 1977 and established his practice, T.H.E, in Cairo, Egypt. He then received a doctoral degree from school of planning at USC in 1988. He is the author of 'Telecity: The Impact of New Information Technologies on City Form.' He is the principal of T.H.E Consultancy firm based in Cairo and practices in the Middle East and Africa Region.
Abstract:
Egypt experienced two waves of urbanization trends in an attempt to improve the rearrangement of population distribution. Since the most populated areas constitute only around 7% of the total area, there have been many efforts starting in the 70s to establish new cities. As a result, there are around 20 "new cities" today built around Cairo in addition to the new regime's vision of a "new capital". This seminar will highlight and reflect on the two waves critiques.
Please RSVP to Jenc@price.usc.edu
Food will be served.