Event Details
A Conversation with the Honorable Henry Cisneros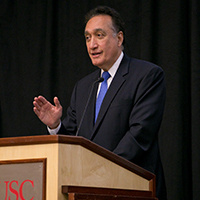 Fred W. Smith National Library for the Study of George Washington at Mount Vernon
(Map)
The George Washington Leadership Lecture Series presents "Bringing People Together: Leading in the 21st Century"
Join the USC Sol Price School of Public Policy and the Fred W. Smith National Library for the Study of George Washington for the annual George Washington Leadership Lecture. Established through a generous gift by Maribeth Borthwick '73, who also serves as the Vice Regent for California of the Mount Vernon Ladies' Association, this lecture series explores the Father of our country's lifelong accomplishments, providing a better understanding of him as a person, as well as his remarkable leadership, professional achievements and lasting legacy.
Between 1789 and 1791, George Washington embarked on a series of arduous journeys intended to introduce the American people to their president. Through his travels, he hoped to bring together the residents of the disparate states into a united nation. With this in mind, this year's lecture series features a conversation with Former U.S. Secretary of Housing and Urban Development, Henry Cisneros.
Since his days as mayor of San Antonio, Henry Cisneros has consistently spoken out about America's need to overcome our contemporary cleavages, and restore our aspirational attempt to create a better society. In this lecture, Secretary Cisneros will discuss the current political and social polarization, and using examples from his wide experience in the public and private sectors to illuminate the ways we can better bring people together. The audience will have an opportunity to join the conversation.
Complimentary valet parking will be provided. Business Attire.
Please RSVP online by clicking here by Friday, October 6.
For more information, contact rsvp@price.usc.edu or 213.821.0417.