Event Details
2017 USC Price School Commencement Satellite Ceremony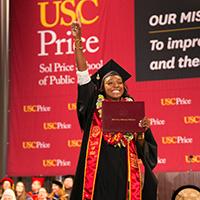 Shrine Auditorium (SHR)
(Map)
2017 Price School Satellite Ceremony and Doctoral Hooding Ceremony
Friday, May 12, 2017
11 AM, immediately following USC's main ceremony
LOCATION: Shrine Auditorium
665 West Jefferson Boulevard
Los Angeles, CA 90007
*It is anticipated that the satellite ceremony will end at approximately 1 PM, it will be followed by a reception for all graduates and their guests:
Price Satellite Ceremony Reception
Approximately 1 PM, immediately following the Price satellite ceremony
LOCATION: Leavey Library Lawn
On the north side of Leavey Library
34th Street near Parking Structure D (PSD)
*No tickets are required for the Price Satellite Ceremony or Reception following.
The Price School will have one satellite commencement ceremony for all degree programs following the main USC Commencement Ceremony.
Price students who are graduating Fall (December) 2016, Spring (May) 2017, and Summer (August) 2017 - and students graduating in Fall (December) 2017 who choose to walk early - are required to register for the Price Satellite Ceremony.
Registration for Price Satellite Ceremony:
More info: Price Commencement Website
Additional information will go out to all Price students on the student list serves in the coming weeks.
For more details about the 2017 USC Main Commencement Ceremony, visit: https://commencement.usc.edu