Event Details
Students of Color and Allies Policy Forum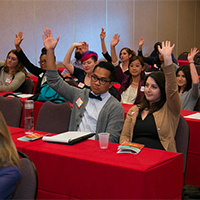 Caruso Catholic Center
(Map)
The Students of Color and Allies Policy Forum (SCAPF) is organized by a collective of students from The Price School of Public Policy who are dedicated to generating critical discussions on issues of race and social justice in planning and policy.
This policy forum hopes to create a space for students at the University of Southern California, community partners, and community members to come together to discuss these issues. The main goal of SCAPF is to empower people to create change within their respective fields. These conversations are particularly important in light of newfound uncertainty about the future treatment of marginalized communities.

This year's forum, entitled, Constructing Policy through Restorative Justice: 25 Years After the L.A. Uprising, will engage policy practitioners, grassroots social change activists, and elected officials to discuss and cultivate strategies for how to shift our policing and justice systems away from the continued criminalization of people of color.
There is no registration fee. Attendance is open to all USC student as well as the broader community to engage in what will be a captivating forum.
Register online for the forum. Check in will begin at 10am. ​​We hope to see you there!