Event Details
Event Canceled - Nonprofit Case Challenge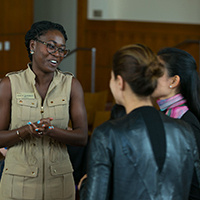 Ronald Tutor Campus Center (TCC)
(Map)
227
PLEASE NOTE: This event has been canceled!

The competition gives students the opportunity to work in teams of 3-4, to address a significant issue, opportunity, challenge, or programmatic change that one nonprofit organization is currently facing. Teams typically have 48-72 hours to create a solution and then present their recommendations to the organization providing the case and a panel of judges. Judges are typically composed of Price School alumni, faculty, and nonprofit professionals and consultants. Last year's Nonprofit Case Challenge asked teams to develop a creative one-year business plan for The Edible Apartment (TEA).
Info Session:

Monday, March 27

Kickoff Event:

Friday, March 31

Presentations:

Wednesday, April 5
RSVP and find out more information on Facebook and their website.