Event Details
Conversation with a (former) Extremist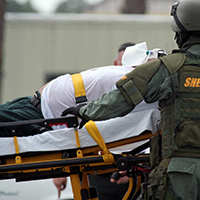 Doheny Memorial Library (DML)
(Map)
240
The USC Price School Safe Communities Institute Lecture Forum presents Ismail Royer

Deadline to RSVP is Wednesday, April 12, 2017

In June 2003, Randall Todd Royer, also known as Ismail Royer, was indicted along with ten other men on terrorism-related charges in connection with a group dubbed the "Virginia Jihad Network." The group was linked to foreign terrorist organization Lashkar-e-Taiba (LET), which operates in Pakistan and Kashmir. Royer recruited men from the Washington, D.C. area to train as mujahideen with LET. The group trained at firing ranges in in the U.S. and at LET camps in Pakistan. Within a week of the terrorist attacks in the United States on Sept. 11, 2001, attacks, four of the defendants traveled to Pakistan and joined LET operations there. Ismail was born in Missouri - he was "homegrown."

How does this happen? Why would a young man growing up in America's heartland join the Bosnian forces in fighting the Serbs? Why does a United States citizen train with "Lashkar-e-Taiba" (LET), the violent terrorist organization from Kashmir, that was also responsible for the 2008 Mumbai attacks, which endured for 4 days, killing 164 people and wounding at least 308?
Join us for a rare opportunity to get the answers from a "former" himself. The road to radicalization and recruitment is best understood from those who have walked it and for a variety of reasons, choose to walk away.