Event Details
USC Summit on Global Solutions in the Age of Homegrown Violent Extremism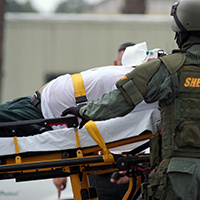 Town and Gown (TGF)
(Map)
Ballroom
The USC Sol Price School of Public Policy and its Safe Communities Institute will host an intensive one-day summit convening counter-terrorism experts, local and international city stakeholders, nonprofit leaders, and others to discuss public safety and how to detect and deter race, religion, and ideological motivations of homegrown radicalization and extremist recruitment.
Keynote Speaker:
Constance L. Rice
Founding Co-Director, Advancement Project
Board Chait, Urban Peace Institute
Summit Chair:
Dr. Erroll Southers
Director, USC Price Safe Communities Instutite
Director, USC Price Homegrown Violent Extremism Studies Program
Program attendees will explore methods for implementing successful community-led extremism prevention efforts, expanding risk mitigation strategies, and developing a policy brief highlighting joint solutions and opportunities to influence global policy.
Summit website: http://www.uscsummitonextremism.com/
Please note: Attendance for this event is by invitation only. ​If you are interested in attending, but have not yet received an invitation, please visit the Summit registration page to receive more information.