Event Details
Student Information Session: USC Price on the Rhine Study Abroad Program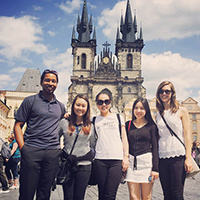 Price students are invited to join us for pizza and information on "USC Price on the Rhine" Study Abroad Program. The program takes place from May 14, 2018 through June 15, 2018. Students (both advanced Undergrad and Masters) who complete the course earn 6 units: "Public Policy and Administration in the European Union and the United States."
The Information Session will be held in RGL 219 on Friday October 13 from noon to 1:30 pm. Please RSVP deansoffice@price.usc.edu, if you plan to attend, so we can have pizza there for you!
The course provides both advanced undergraduate and graduate students an affordable, unique, and sought-after way to earn six credits while gaining cultural and substantive experience at one of Europe's premier institutions of higher learning.
Classes are held at both Speyer University (Germany) and onsite at EU institutions in Brussels, Belgium and Berlin, Germany.
With seminars taught only in English, students take classes with other European and American students in a comparative approach to understanding public administration in the European Union and the United States; European economic and cultural integration; and Policy-making in the European Union and its effects on member states.
Group excursions include visits to cultural, historical, and political institutions in Germany, France, and Belgium such as specially arranged tours of the German Parliament, the European Parliament, the European Commission, the Council of the European Union, the Central Bank of Europe, and historic Heidelberg. Students also have opportunities to travel on the weekends. In the past, students have traveled to destinations such as France, Italy, Holland, and Austria in their free time.
For questions, please contact Ginger Li, Deputy Director, Office of Global Engagement, at jingjiel@usc.edu