Event Details
Occupational Licensing of Social Services and Nursing Home Quality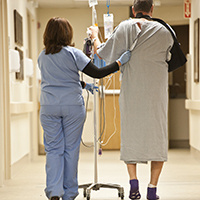 Verna and Peter Dauterive Hall (VPD)
(Map)
The Schaeffer Center (Room 116)
USC Schaeffer Center for Health Policy & Economics - Quintiles Seminar Series
John R. Bowblis, Ph.D., will present on: "Occupational Licensing of Social Services and Nursing Home Quality: A Regression Discontinuity Approach"
About John R. Bowblis, PhD:
John R. Bowblis, Ph.D., is an Associate Professor of Economics and Endres Associate Professor Fellow in the Farmer School of Business at Miami University (Ohio). He also is a Research Fellow at the Scripps Gerontology Center. Dr. Bowblis' research centers on the economics of the long-term care and post-acute care industries with particular focus on health care quality and costs, and how providers respond to regulatory and financial incentives. Dr. Bowblis' work has been published in the Journal of Health Economics, Health Services Research, Medical Care, Health Affairs, and other journals. In addition to publications, Dr. Bowblis has worked extensively with the Ohio's Department of Aging, Department of Medicaid, and the Ohio Attorney General's Office to better align Ohio's state funded long-term care programs with the needs of an aging population. Prior to joining the faculty at Miami University, he worked at the Princeton Economics Group and Rutgers University's Institute for Health, Health Care Policy, and Aging Research. Dr. Bowblis received his Ph.D. from the Department of Economics at Rutgers University, and holds a Bachelor's degree in economics from King's College in Pennsylvania.
For any additional information please contact:
Devin Stambler
dstamble@healthpolicy.usc.edu
213-821-7940