Event Details
USC Commencement 2018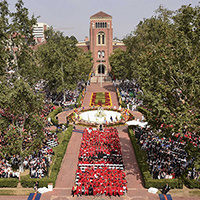 USC commencement ceremonies are held once a year during the month of May. USC's commencement consists of one main ceremony for all students graduating Fall (December) 2017, Spring (May) 2018, and Summer (August) 2018. The main ceremony is followed by smaller "satellite" ceremonies for individual schools and programs throughout the day.
2018 USC Main Commencement Ceremony
Friday, May 11, 2018
LOCATION: Alumni Park
8:00 AM Line-Up: Location for line up
8:30 AM Processional Begins
9:00 AM Ceremony Begins
Approximately 8,000 USC graduates will march in under their school's flag before receiving their degrees as a class. This ceremony features performances by the USC band, brief speeches by the valedictorian, keynote speaker, and the president. There is no registration required for students to march in the main ceremony, and guest seating is available on a first-come, first-seated basis. Please note, at the main ceremony each guest may only hold or reserve two additional seats.
Students are officially designated graduates of the university at this first, or main, ceremony, but they do not march across a stage, receive a diploma cover, and take a photo until they attend their school's satellite ceremony. The ceremony concludes at approximately 10:15 AM and students march out of the park back to their assembly points.
For additional information please visit USC's Commencement website: https://commencement.usc.edu
Additional information will go out to all Price students on the student list serves in the coming weeks.
For more details about the 2018 Price School Satellite Ceremony, visit: http://priceschool.usc.edu/students/graduation/