Event Details
A Conversation with California's Gubernatorial Candidates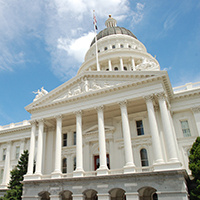 Bovard Auditorium (ADM)
(Map)
The University of Southern California's Sol Price School of Public Policy, in partnership with NBC 4 Southern California, is honored to host A Conversation with California's Gubernatorial Candidates. This debate will be broadcast live on NBC4 and NBCLA.com, and will be co-moderated by Colleen Williams, NBC4 Anchor, and Conan Nolan, NBC4 Chief Political Reporter and anchor of the political affairs show, News Conference.
As the 2018 Primary Election nears, this event will connect the leading candidates with the USC and local community for an evening of substantive policy discussions on the most pressing issues facing Californians today. Our next Governor will be faced with unprecedented challenges and opportunities, and this is an opportunity to hear directly from the candidates on how they plan to improve the quality of life for people and communities within California and beyond.
A Conversation with California's Gubernatorial Candidates will be a policy-focused discussion with the leading candidates based on eligibility. Criteria for candidate participation was determined by polling averages prior to February 1, 2018. The polls used to determine eligibility came from the following sources: USC Dornsife/Los Angeles Times, PPIC, and IGS.
5:00pm – Guest Check-In and Reception (light refreshments will be served)
6:15 – 8:00pm – A Conversation with California's Gubernatorial Candidates (Live broadcast will air on NBC4 and NBCLA.com)
PLEASE NOTE:
Guests are encouraged to arrive early. There will be no admittance after 6:15pm to accommodate the live broadcast.
Attendees must also remain seated during the televised broadcast from 6:30 – 8:00pm.
For security reasons, no backpacks or bags larger than 12x12x6 will be permitted in the auditorium.
Please CLICK HERE TO RSVP to attend the debate. A confirmation email with final details and parking information will be sent a few days prior to the event.
For more information, please contact Julie Labich, Director of Development and Strategic Communications, at samere@price.usc.edu or 213-821-8188.