Certificate in Homeland Security and Public Policy
Certificate in Homeland Security and Public Policy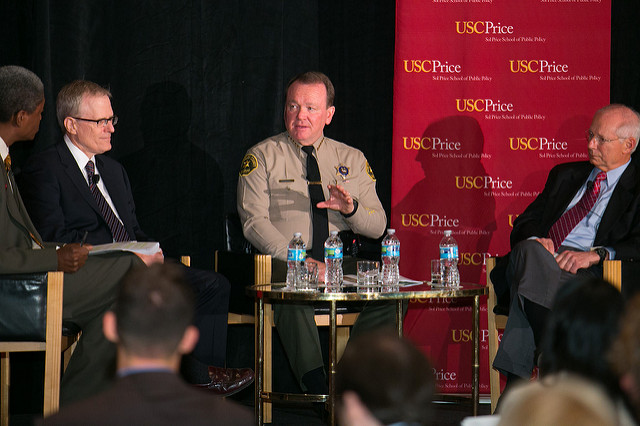 With growing opportunities to employ research and analysis in public safety efforts, the USC Price graduate Certificate in Homeland Security and Public Policy is a rigorous program for those who are interested or already working in the field. The certificate develops risk analysis skills and provides students the knowledge needed to understand the issues surrounding the increasingly important issues of homeland security and public policy.
The Certificate in Homeland Security and Public Policy requires 15-16 units of graduate course work, depending on selected courses.
Required Core Course (4 units)
PPD 683 — Homeland Security and Public Policy (4)
Choose three of the following (11-12 units)
PPD 503 — Economics for Public Policy (4)
PPD 557 — Modeling and Operations Research (4) or
ISE 530 — Optimization Methods for Analytics (3) or
ISE 562 — Value and Decision Theory (3)
PPD/ISE 587 — Risk Analysis (4)
Admission Requirements and Application Procedures
Current USC Graduate Students — Applicants for the Certificate in Homeland Security and Public Policy who are currently enrolled in a graduate program at USC (and are in good standing with a 3.0 GPA ) need only to submit the appropriate paperwork for adding the certificate program, which may be obtained from Suzanne Alexander, Program Administrator, Graduate Programs in Public Policy, in RGL 238.
Prospective Applicants — Applicants who have not matriculated at USC must make a formal application at the USC Graduate Admission website.
Applicants must submit the following items:
Official transcripts from ALL institutions attended sent directly to our office:

Office of Recruitment and Admissions
650 Child's Way – RGL 111
Los Angeles, CA 90089

Resume (upload via online application)
Letter of Recommendation (uploaded via online application)
Deadlines:
July 1 – Fall Semester
November 1 – Spring Semester
April 1 – Summer Semester
Please contact the USC Price Office of Admissions at [email protected] for more information.